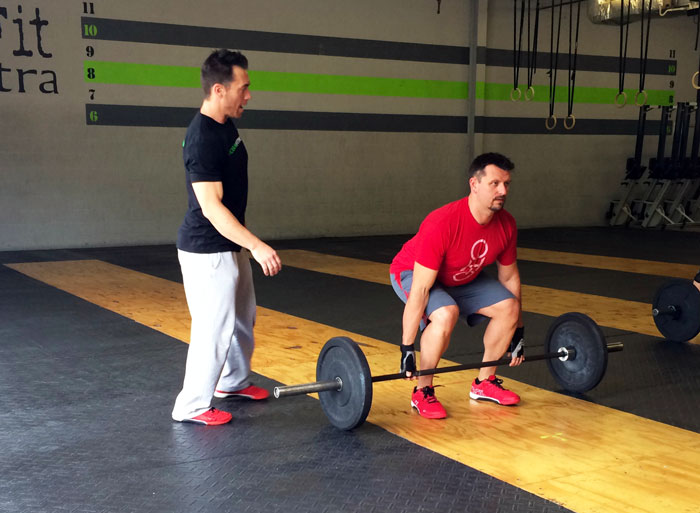 What Is The Process?
Result Orientated Custom Approach to Fitness
Whether your goal is to get stronger, lose weight, look more athletic or just improve your balance, I specialize in providing you with a personal, customized fitness program based on:
Fitness Level
Experience Level
Specific Goals You Want to Achieve
This is the type of coaching you need to reach fitness goals that you once thought were impossible.
Do you squat 400 pounds or 40 pounds? Your number doesn't matter. My coaching will give you the personalized coaching and attention that you need and deserve.
Mobility Assessment and Injury Prevention
Your fitness journey begins with mobility and injury prevention.
My mission is to ensure that your body moves properly both during our sessions and in your daily life. I embrace the standards for movement as established by the fields of Physical Therapy and Exercise Science; these standards form the core of my programming.
I am relentless and painstaking to ensure you exercise safely and properly, all while helping you to achieve your personal fitness goals.
Maintaining Results through Education and Behavior Modification
Research has shown that 50% of all people starting an exercise program will quit this program within the first six months. I will teach you not just how to get results from your fitness program, but I will empower you with the knowledge and skills essential to maintaining these results over the course of your entire life.
Expertise and Professional Training
John Scardino is more than just average gym trainer. I have the credentials and experience to get you the results you need from your fitness training.
All State Honors in Track and Field
Second Place Finish as a Competitive Bodybuilder
Collegiate Division 1 Strength and Conditioning Coach
16 Years as Personal Trainer
6 Years CrossFit Coach
BA in Psychology from the University of Mt. Union
Dual Masters Degrees in Exercise Science and Sport and Exercise Behavior and Performance from Miami University in Oxford, Ohio
Level 1 CrossFit Certification
CrossFit Mobility Certification
CrossFit Kids Certification Services
How To Get Started
The first step to getting started with Coach John is a free Introductory Training Consultation. During this one hour meeting, I will take a close look into you and what makes you tick, both physically and mentally. Together we will examine your fitness goals, history, and obstacles so you don't become another statistic.
From this conversation, we will together determine if you will become a personal training client, a mobility training client, or a sports performance enhancement client. For more on this please click on the Services section below.
Services
1 on 1 Coaching
Research has shown that working with a fitness professional is an amazingly effective and efficient way to achieve your individual fitness goals. I will work with you to identify and clarify your fitness goals, assess your movement, and design a program specifically targeted at improving your deficiencies and optimizing your strengths, thereby enabling you to achieve your goals as quickly as possible.
Semi Private Coaching
Studies have shown that working out with a friend can significantly increase your chances of adhering to an exercise program. Semi Private coaching provides the benefits of individualized attention while giving you the flexibility of working out with a friend.
Mobility Training
Mobility training is perfect with someone who is already taking part in a movement practice (I.e. CrossFit, Bootcamp classes, etc.) yet still finds it difficult to move without pain. 98% of orthopedic injuries are preventable and I will work tirelessly to teach you to exercise safely and properly as you achieve your goals.
Sports Performance Enhancement Training
John also offers personal and group services that emphasize education, carefully monitored improvement plans, and established techniques to increase speed, agility, strength and power. My goal with this type of training is to build the complete athlete by focusing on sport-specific movements at game speed. I focus on the drills and skills that address quickness, reaction time, dynamic flexibility and postural strength. I train athletes to perform according to the sports in which they participate. The sport-specific programs are based on the movements, skills and energy systems used in specific sports.
Real Client Testimonials
John's methods, patience, intelligence, and his commitment to fitness, nutrition and excellence have been transformational for me. In October of 2013 I was struggling with an ankle fracture; I was unable to run without pain and I couldn't walk down the stairs without an assist. After 6 weeks of working with John both issues resolved. He provided me with a nutrition as well, and a year later I am stronger, leaner and fitter than I could have ever imagined. He has been inspiring and supportive the entire time. Working with John has been one of the best decisions I have ever made.
PJ M., Attorney, fitness coach, and client of 3 years
I started working with John in September 2009, and after the first session I was hooked. When I originally heard about him it sounded like exactly what I needed in order to reach my fitness goals and become a better athlete. Since starting I have gotten stronger and increased my endurance. He incorporates all different types of movements into one amazing workout. Since I started I have also noticed a significant increase in my overall fitness. From kettlebells to jump rope, deadlifts to overhead squats, and everything in between you never know what concoction of exercises they will have in store for you! Not to mention how motivating he is during every workout!
Dan D. , Client of 6 years, former Junior Olympian, and holder of a Taekwondo Black Belt
I have trained with John for 15 years. John is the consummate professional. He has the knowledge and ability to work with clients at every fitness level. He listens to goals and expectations while always placing safety as a priority. I would highly recommend John to anyone seeking quality personal training.
Neil K., successful area dentist and client of 15 years
At age 56 I felt that I needed to do something to get back into shape. I then found Personal Trainer John Scardino. I have been working out with John for the last 4 years and I am in better shape than I was when I was 40. John is extremely talented and provides great motivation (which I need). I still hate going to the gym but I love coming home. The best feeling is the day after the workout. John targets different parts of the body each week. When I feel the burn the day after I am so glad that I went to the gym.
I think that the most valuable thing that John does for me is that he makes sure I work out in a controlled and safe manner. He makes certain that all motions that I do are done in a safe manner. If I start to get sloppy on anything he stops me, has a discussion with me to explain what I am doing wrong and then corrects the motion. I feel entirely safe in John's hands. John knows that I love golf and one of the things he does is open my hips which has dramatically improved my game. I am hitting the ball further than I did when I was 40. Simply put, John will improve your life.
Frank A., area businessman and client of 4 years
Blog